Justice Society of America #10
Well, this was interesting. Due to Starman's deft use of a black hole to contain an explosion by a bad guy from last issue, somehow Superman from the "Kingdom Come" universe is sucked into OUR universe. This is just post-nuclear explosion, but clearly ante-Hope-Filled-Wonder Woman Bonking. So naturally, the poor fellow is depressed.
Clearly, the Justice Society is understandably nervous about this ticking time bomb sitting in their meeting room. Ma Hunkel shows up, which is nice, and apparently does his laundry,while Power Girl is depressed that he's not really her cousin. Starman is just happy to see somebody that he knows.
Superman is depressed because this world is so much better than his, and he's having some trouble coping. Then, who should show up but Obsidian!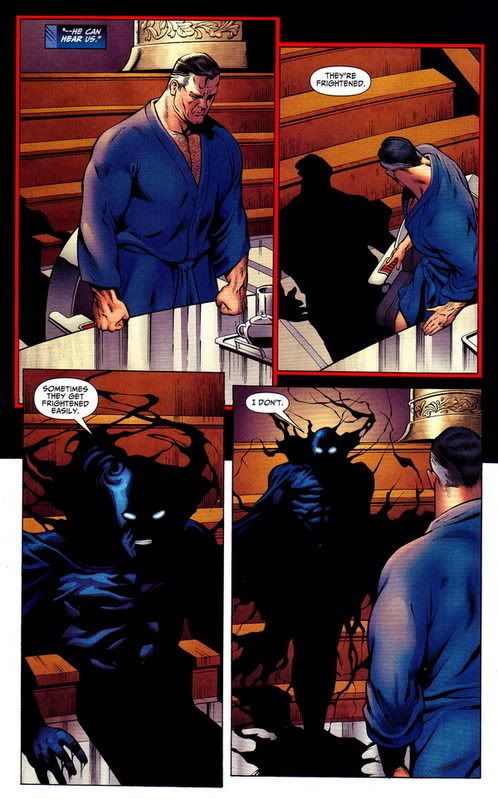 Finally!
Todd even gets some dialogue! Woohoo!
Then suddenly, Superman appears to go berserk, and busts out of the meeting room, where they had previously locked him in. Big Pile-On ensues! Doesn't work of course, and off he goes. Alan is a little snarky with Todd. It all turns out that he is just flying to rescue a young girl who is trying to jump off of a building. He gets to do something heroic, and the rest of them are suitably impressed. You have to feel for the guy, it must be nice to actually be able to SAVE somebody for a change.
Meanwhile, Batman broods in the batcave and ominously fingers what could be a Kryptonite ring, Peej visits Kal's grave, a bad guy is being chased through the sewers for some reason, and Jay and Wally dig out the old Cosmic Treadmill, which has apparently been stuffed into storage.
Not a TON of story, but what there was of it, I liked. And the artwork is beautiful as always. It is interesting that the Society just doesn't really quite know what to do with him, or how to react. They all seem to be treading on eggshells around Superman, and I suppose that you can't blame them.