Green Lantern #23
Oh yeah! Wait a minute...that's not the right one...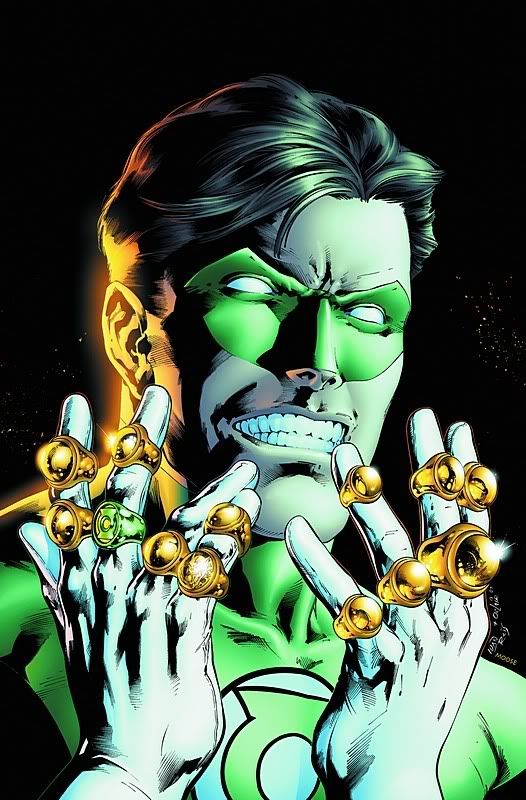 How's THAT for an Homage?
I'm not going to do a huge, page-by-page breakdown of this issue, because I want to you all to get off your duffs and go out and BUY it and READ it. It does however very quickly jump right back into the action from last month's cliffhanger, where Guy and John were hanging up on a pillar and Lyssa Drak was gloating. Although there is a quiet moment at the very beginning with Hal's brother's family and the goings on in Coast City, that establish a note of foreboding.
Hal, Graf Toren and Tomar Tu are fighting Lyssa, and Hal's ring is running out of power, but fortunately...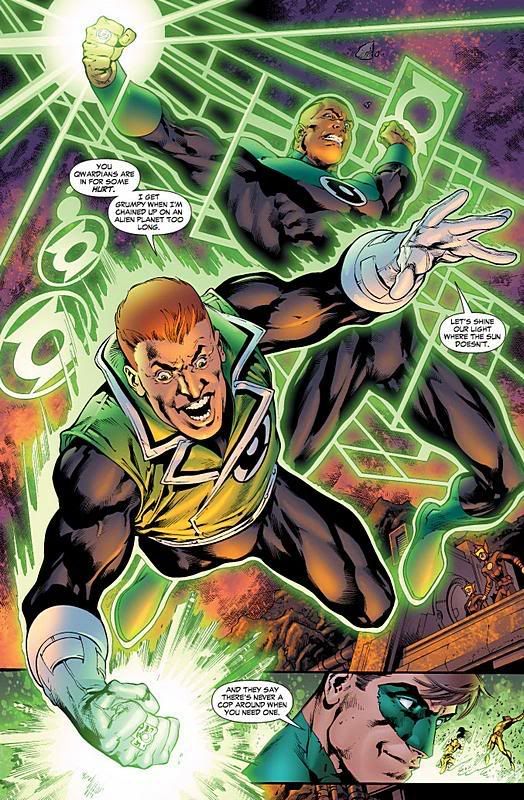 Hoohah! And just like that the tables start to turn. I must say that I rather enjoyed Hal's wry comment about cops never being around, and then he and Guy having to explain the whole thing to Tomar who doesn't understand Earth humor. There is also a nice bit of exposition about what was happening to John and Guy while they were strung up, John got a revisit of his failure to save Xanshi, while Guy sees his miserable old goat of a father, his trip to comaville, and the death of Tora. Being Guy, he shrugs it off, and tells them all to man up and grab Kyle and get back to Oa..."...before Sinestro and his golden fairies beat us there."
Hal however is just about out of power, so he decides to turn the tables on Sinestro and borrow a few rings.
Now THAT is some crazy artwork! Do you get the impression that Hal is enjoying this just a little bit too much?
Quite a lot of other cool and exciting things happen of course. Tomar voices his concern over Hal's use of the yellow rings, and Guy just can't help but point out that HE used SINESTRO'S own ring, and it didn't faze him in the least. This is argued about by both John and Hal...in the middle of the fight, but it is funny. Then Sinestro shows up along with Kylellax, and Guy has the most appropriate response...
..."Aw crap."
Talk about jumping into the fire from the frying pan. However it does lead to John's best line..."No Manhunter escapes the Man." Woohoo John! Guy tries to jump Sinestro, which leads to his almost disembowelment by Kylellax, who also does his best to break Guy's neck. Fortunately the cavalry arrives in the form of the lost Lanterns, who are unfortunately sans Ke'Haan, who got blowed up by the Anti-Monitor. Poor Ke'haan. They do have Ion however, so they all decide to jump ship and get the hell back to Oa,where they expect the next attack to fall.
Hal and the others however decide that they want to make a pit stop on Earth first and pick up some help...which is actually a pretty good idea. Too bad for them that they are followed.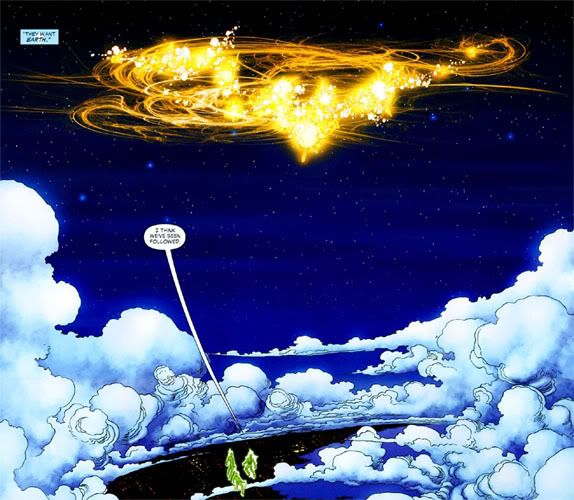 Isn't that the most gorgeous thing you've ever seen? The clouds, the lights of Coast city below, the terrifying but beautiful yellow and gold streaks of light above. Sensational.
There is a whole lot more going on of course, including some VERY important decisions by the Guardians and the various ramifications of their decisions, but I'm going to leave that for another day. Let me just say that the art is mind-bogglingly magnificent, and ditto for the coloring. Geoff Johns just keeps hitting the ball out of the park with this book.