For a change of pace...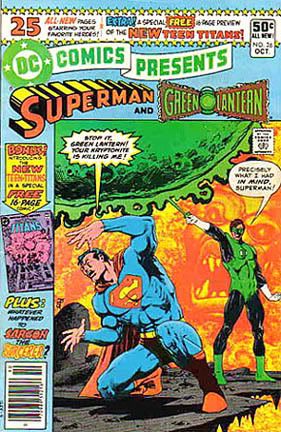 Wow! For a change, it isn't Superman who is being obnoxious, but Hal Jordan! And he's not fooling around either, but going for the big guns! I guess this answers the question about whether or not Green Lanterns can defeat Superman. Heck John Stewart did a pretty darned good job back in Rebirth, and that was without any fancy Kryptonite. All Guy would have to do is whip out that old Porno that Supes made with Barda and threaten to broadcast it, and Superman would be on his knees blubbering. Kyle? Well, Kyle would just have to show him his magnificent buttocks. And maybe tousle his hair a bit.
I can only assume that somewhere, Jimmy Olsen, is cheering, as is Barry Allen, considering what Superman did to HIM a few blogs back!