Dinah finally makes an honest man out of Ollie
Awww...isn't this just too cute for words?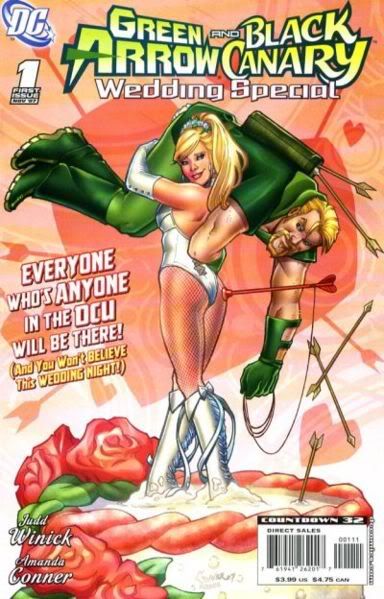 In the last issue of Green Lantern, Ollie has finally broken down and proposed to Dinah. She hasn't given him an answer yet, and in solicits of Birds of Prey, it is suggested that perhaps Babs tries to talk her out of it. There is also going to be a Black Canary series, which is a good thing.
However, unable to stand the suspense, DC has given us solicits that seem to prove that yes, indeedy, they are getting married. There has been something of a fuss about this, with a lot of people stating that Ollie is a rogue and a scamp and not good enough for her.
This is absolutely true.
On the other hand, I am a complete sap and a sucker for a happy ending, so I am delighted that they are going to be tying the knot. Despite their ups and downs, they have been one of comicdoms most notable pairings...they've been making googoo eyes at each other for a LOOOOONG time. Furthermore, although he can be a bit of a cad, Oliver HAS seemed to settle down a bit lately...and about high time, if you ask me. So yes, I'll be buy ALL the wedding tie-ins and such.
They are even going to have a bachelorette party.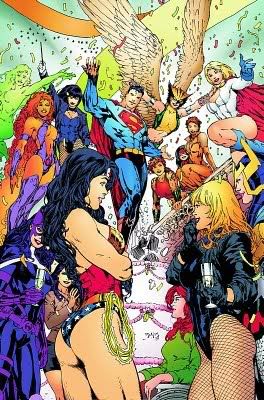 Why who is that flying out of the cake? None other than Superman himself. I wonder if Lois is in attendance, and is he going to start taking his clothes off? Or is he like Captain America, who thought that an Ecdysiast was a magician? And look, Peej and Barbara in the same room as one another! I hope that Ice is invited too, since Fire is there.
Is there going to be a separate book for the Bachelor party? THAT could be interesting if Hal and Roy are in charge of setting up the...entertainment. Heh heh.
I can't help thinking that there is going to be one interesting wedding party, with Mia, Connor, Roy, Lian AND Sin all taking place. They've already got one heck of a family there, it's about time they stopped living in sin and made it all legal. I DO rather hope that they will wear tuxes and party dresses instead of their costumes.