Oh...Hal.
I think that I have come up with a reason for Hal's leaving his ring in his locker, when he decided to go off on a mission and was captured.
He DOES seem to have this certain...predeliction for blows to the head.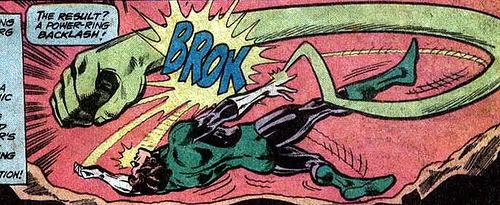 I think that Guy still holds the record for number and quality of comas, but when it comes to getting klonked in the noggin, Hal has him beat.
While John has certainly had his moments, accidentally destroying a planet and getting stuck in a wheelchair, his cranium seems to mostly have escaped the abuse that dogs Hal Jordan.
Even Kyle, who has been tied up and probed and otherwise manhandled to a major degree has managed to keep his pretty little head mostly intact.
At this point I figure that Hal's brains are probably so scrambled, that he's lucky he even REMEMBERS that he has a ring!
Hal Jordan...walking punching bag.