Oh...It's Monday
After a stunningly gorgeous weekend, not to mention no fewer than THREE fife and drum parades, it is back to work, and a chance to rest my poor poor feet.
But I still don't have a thought in my head.
And you know what THAT means!
Yes, it's time to dust off the old Hal pictures.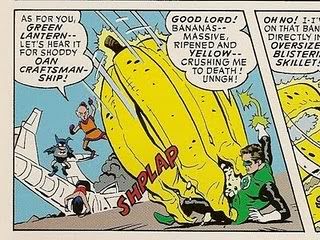 Heh. You can't see Hal's beautiful buns in this particular scan...but that giant banana does seem to be glomming onto his...other assets. I also love the sound effect. "SHPLAP" really does sound like a giant yellow banana humping Hal.
Oh Comics!