Feeling Lazy
Back from the Special Olympics. Chris won a gold in the 4x100 relay and the running long jump, and a silver in the shot put, so we're all very proud of him. There was ice cream for everyone! We also marched in an incredibly LOOOOOOONG Fireman's parade, and my feet may never recover.
So, it's Monday, and I'm feeling unbelievably lazy and unmotivated. But here is my blog, just begging for attention. And so, I fall back upon the tried and true.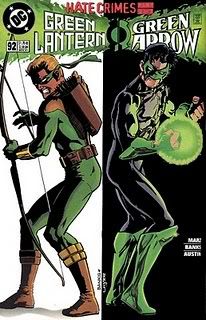 Egad, a two-fer! Not only do I present to you Kyle's magnificent hindquarters, but Conner's as well!
I rather miss Conner. Apparently, Ollie's obssesive jackassery, has made him decide to abandon his Buddhism, and all the tenents that he was raised by, and become a jackass TOO! Or something. The Arrow family has been increasingly convoluted lately. It's a relief to only have to deal with the 7200 members of the Green Lantern Corps!