Green Lantern Corps #46
Well, I'll be dipped.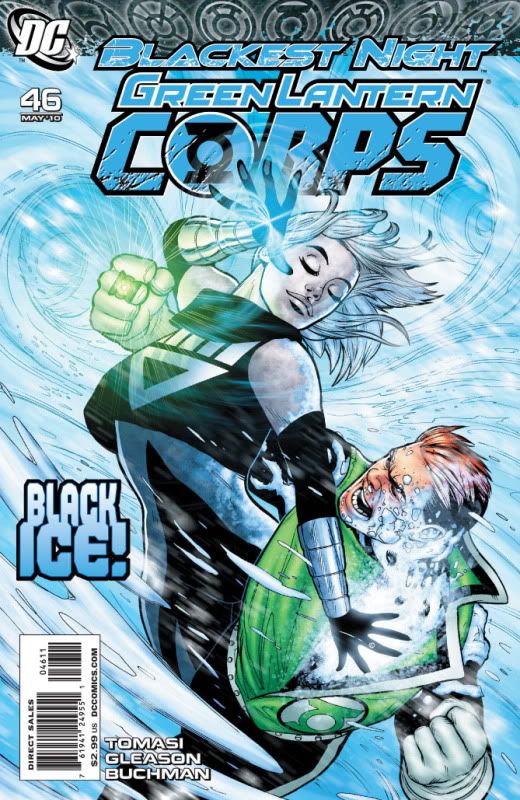 We're in the home stretch now, and there is a lot going on...a LOT! Pat Gleason does his usual stellar job on the artwork, while Peter Tomasi gives us all kinds of interesting moments. At the end of the last issue, all of the Green Lanterns on Oa, were gathered together by the Indigo Corps so that they could go to Earth. If you have been reading Blackest Night, you will see them all arrive...with all of the OTHER corps in tow.
And here they all are, in the skies over Coast City. Fighting Black Lanterns, but there is also a certain amount of in-fighting going on, as some of the various Lanterns, predictably the Red and Yellow Corps are finding it difficult to put aside their differences. Guy has a rather clever idea for battling the Black Lanterns, but it's going to take cooperation, and in his usual inimitable fashion, he manages to get the rest of the Corps to play nice...at least for a while. Oh, and apparently Guy is a Star Trek fan. Who knew? Not John Stewart, but that's not surprising.
Guy puts his knowledge of Star Trek, the Original Series, Season 3, Episode 64 to good use, and all of the corps make a net out of the light rom their rings, in order to entrap the Black Lanterns. It works pretty darned well too, except that there are just so MANY Black Lanterns that they are eventually overwhelmed. All manner of Lanterns begin to fall towards Earth, but Guy at least is rescued by...someone.
Oh crap, it's Ice. Black LANTERN Ice. Naturally enough Guy is nonplussed, as Black Ice begins, in the usual Black Lantern fashion to lay on the guilt. Like Guy doesn't have enough to deal with. At the same time, Kyle is being confronted by a...Black Refridgerator. Oh Kyle.
Is it wrong of me, that my first reaction to this was a tiny snicker? Yes, Alex is inside, and she's not happy. Kyle gets to replay what her death was like, which can't be very pleasant. Fortunately, for our boys, they aren't novices in fighting Black Lanterns, and quickly realize that these aren't REALLY Alex and Ice. That doesn't necesarily make any easier on them however.
Ice is really laying on the guilt, of how Guy doesn't REALLY love her, and he spends all of his time on Oa instead of with her, and would it kill him to send her a letter or bring her flowers once in a while, and while he's at it, take the trash out...and so on and so forth. Interestingly enough, Ice even begs him to put her out of her misery, and Guy is overcome with Compassion. She's encased the two of them in a cocoon of ice that is plummeting towards the ground, when she lets slip that she REALLY wants a pice of his heart, and he busts out, as she shatters into pieces.
Not to worry, as she can pull herself together, but still...!
Kyle meanwhile is reliving Alex's death and Major Force's villainy, and he's not too happy either. But Kyle's been through all of this with a dead Jade already, so he's not about to crumble, and with the help of Munk, he severs the connection. I don't think that Alex is going to be coming back.
You'd think that would be enough excitement, but that's only the warm-up! Remember that figure that was trying to bust out of the Black Battery? Yep, they've found the Anti-Monitor and boy is HE pissed! So, they've all got to fight HIM now. It's not working however, since he's not actually a Black Lantern, so they have to come up with something else. Dove is there, and her light is doing a bang-up job of taking out Black Lanterns, so they decide to see if she can help out. In the meantime however, Vath rushes in to save Iolande from a blast from the Anti-Monitor, and gets both of his legs blown off! They try to carry him off the field, but he just yells that they are cauterized, and he's fine, he'll just rub some dirt in it,and keeps firing! Vath is Hard Core.
So they load Dove into a Giant Bullet, and fire it at the Anti-Monitor, while Guy gets all of the Red Lanterns to pour it on...literally. Bedovian fires the Dove Bullet...and it works! Except that it doesn't, not completely, and the Battery sucks him right back in, severing their energy light tethers.
And that's where it ends, with all of them rushing in, to be continued next week in the final issue of Blackest Night!
Man, I'm just having the time of my life with all of this!