Most Definitely A Foe
I'm continuing with the theme of showcasing Guy Gardner's various friends and foes. Interestinly enough a heck of a lot of his friends started out in the foe category, before learning to love the inner Guy. Our subject for today however, is a foe. Most definitely a foe.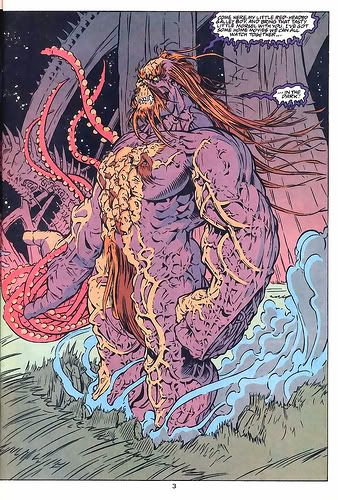 This is Dementor. Disgusting, isn't he? He was created by Beau Smith back when he was writing Guy's own book, and he was once spectacularly revolting villain. He was an experiment, a bit of Vuldarian cross-breeding gone horribly awry, and basically stood as the evil mirror image of Guy once Guy had discovered his own inner Vuldarian.
For a while...it's complicated...he was sort of living in Guy's head, and bedeviling him on his frequent trips to "Comaland". He brashly claims that he was the one responsible for all of Guy's manic mood swings and behavior quirks back when he was brain-damaged. How much of this is really true, and how much of it is just Dementor messing with Guy's head, is moot.
Dementor spent a lot of time tormenting Guy and his friends, and since he had a particularly perverted sense of humor, it usually got a little weird. For example, it was Dementor who was responsible for turning Guy into a woman. I believe that there ARE pictures, but Buck Wargo and Zinda have them under lock and key, no matter HOW much Hal wants to bribe them.
So anyhoo. Dementor was ugly, revolting, and ridiculous...and usually hilarious in a creepy sort of way. He was finally killed by Guy, but I suppose that it would be fairly simple for some writer to resurrect him, if the need should arise. That probably won't happen for a long time however, since Guy's Vuldarian period seems to have been swept under the rug.
Still...Dementor was fun in a lot of ways.