Still More Guy
Now that we've discussed his hair, let's discuss his clothes. Like most superheroes, Guy has managed to have a number of different "looks". His very first costume, was a standard Green Lantern uniform.
He looked quite nice in it, but it was fairly generic...it wasn't HIS really, it was just a copy of Hal's.
After he lost the ring, he ran around in a rather ridiculous little number.
The tight pants are ok, and Lobo's jacket isn't so bad, but the belly shirt was just terrible. Fortunately, Guy did come to his senses, and came up with something a little better, when he was running around with the yellow ring.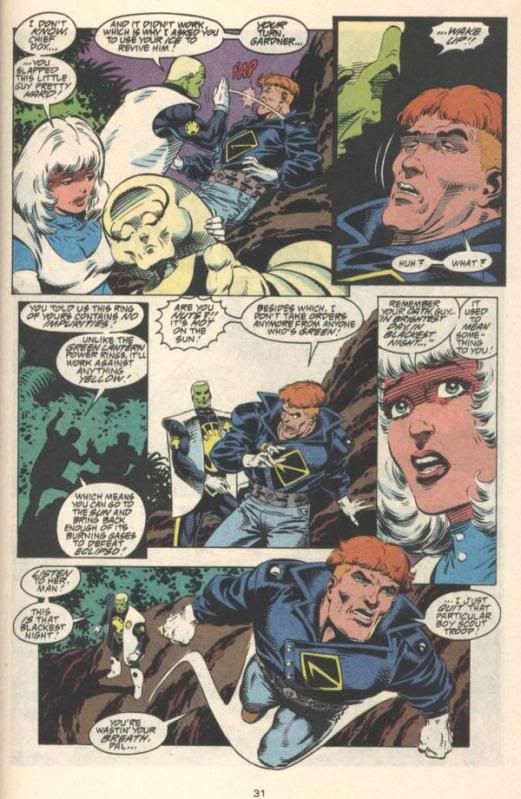 Jean, and cowboy boots, and a jacket aren't a bad combination. It was interesting that he refused to put on "tights" like the rest of the superpeople. Guy may have nice muscles and an amazing ass, but he's modest. Or at least, likes to be comfortable.
Then he lost the yellow ring, and ran off to the Nabba Jungle to drink the Warrior Waters,and somehow ended up in a weird suit of armor...which magically changed after Zero Hour, into this little number, which showed off his manly chest, and had the added advantage of being a whole heck of a lot easier to draw.
But you just can't beat, the Green Lantern uniform that he came up with on his own, when he was awakened from his coma and brought back into the Green Lantern Corps.
With only minor modifications, this is the outfit that he wears today, and it's a keeper, in my book. One of Joe Staton's best costume designs, in fact, I think that it's one of the best superhero costume designs. It is fairly simple, but distinctive,and moreover, it is actually something that a real person could wear comfortably. I've always liked the little military stripe down the leg, although I prefer the boots as they are now, and not the ridiculously huge "moon" boots that some artists were saddling him with over the years. Kalinara once pointed out that Guy's outfit looks good on everyone, and she's right.
And unlike the generic Green Lantern costume, (which I also love, don't get me wrong) you know EXACTLY who it is, when you see that collar and that belt.
He may have been braindead when he came up with it, but Guy still had style.