What Should I Name THIS Week?
Ok, we've had Bat Bashing, and Hal Whacking, not to mention Guy Glorifying. Now, I've come to John Stewart, and I find myself in something of a pickle. What, oh what should I call a week that honors John? John is Cooler than you Think Week? John is the Smartest Week? Justify John's Existance Week? Does anyone have a better idea? I'd be glad to hear it!
Anyhoo...getting back to John. I have a tendancy to forget about John sometimes, it isn't because I don't like him, because I DO, it...it's just that he has this habit of blending into the background, at least in comparison with his cohorts. Hal, Guy and Kyle are all more histrionic, loud, and cuter. They tend to DEMAND your attention. John is more likely to lurk and do his job quietly and efficiently...which is wonderful, but competence doesn't always get you noticed.
He DOES have quite nice buttocks of course, but that's pretty much a given,considering that it is one of the first requirements to even becoming a Green Lantern. The Guardians have a certain...kink, when you stop and think about it. Not that I'm complaining of course.
But anyway, hereeeeeeeee's Johnny!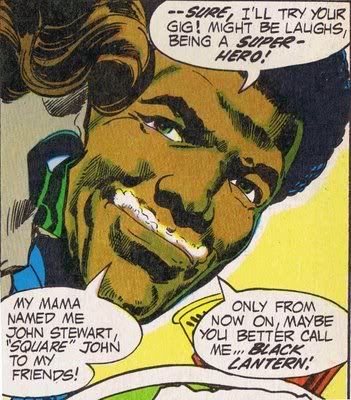 This is one of my favorite pictures of John. He does have this impish side to him that doesn't seem to come out very often, but it's there. I imagine that he cultivates a certain dry sense of humor...an asset when dealing with his fellow Earth Lanterns.
John rocks!