Oh, Those Wacky Legionaires!
I admit it. I just don't get the Legion of Super Heroes. I understand the concept of course, super-powered teenagers from the Future! A spiffy and exclusive little club for the gifted! Something for the younger kids reading comics to identify with, perhaps more readily than with the grown-up superheroes.
They all had such funky names, and colorful outfits, and amazing powers, and came from different planets and had flight rings, and a clubhouse, and...and STUFF! And yet...I never connected. Partly I suppose, because I was an adult when I started picking this up out of curiosity, so I never had that emotional connection with it. Partly, because I couldn't get over all the "lads" and "lasses" aspect. And partly, because they were all such utter jackasses!
It was as though whenever they got bored, they'd get together and decide to hold a "competition" or tryouts for new members. Of course every loser in the galaxy decided to show up, because for some reason, being a member of the Legion was glamorous. Then they'd all go out of their way to humiliate and heckle the poor kids trying out. Heck,they even tortured Superboy! They made Superboy CRY! And they're all so smug about it afterwards.
But I guess the real reason I have reservations about the Legion is because of this...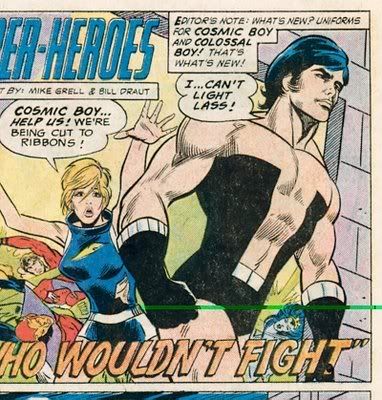 <
I don't care if you ARE from the Future, Cosmic Boy. That outfit is NOT becoming! And I'm just sure that Saturn Girl and Lightning Lad are secretly laughing at you behind your back. And for once, with good cause.
If the Legion would stop having those bloody tryouts, perhaps they wouldn't end up with so many enemies among the former wannabees. Stop humiliating those poor teenagers, you're just making trouble for yourselves down the line. However, I fear that teens, even super-powered teens are not known for thinking ahead.
The Green Lanterns don't pull this sort of thing. Sure, Kilowog and Guy Gardner may mock you in training, but if you are there, you are there because you are WORTHY of being a Green Lantern. And the costumes are so much better. And nobody calls you Lantern Lad.