In Honor of Valentine's Day
Dagnabit! Wouldn't you know that Scans Daily would post the Green Lantern Corp pictures the day AFTER I did my review? I really do need to get my scanner working again.
But anyway, in honor of Valentine's Day, here's our boys talking about the power of LOVE and the douchebaggery of the Guardians.
Wherein Guy is being cagy, and so is Kyle. Not that either of them is fooling anyone.
And here's to our newest couple.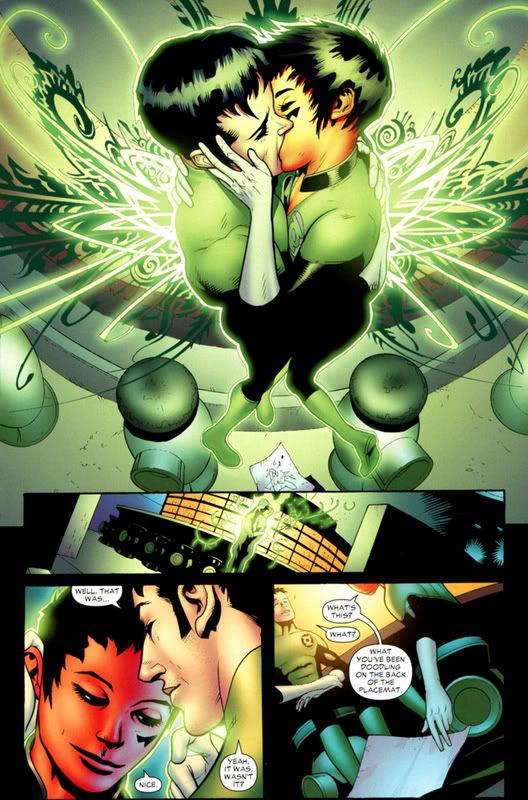 Awwwwww!
I love the light effects. Pat Gleason has been doing some really pretty things with the auras lately, such as the "wings" he gives to Miri, and the art noveau effects around Kyle and Soranik.
I know that there is a certain feeling that this attraction between Kyle and Soranik has been a little too sudden, but I suppose that I can see it. After all, it is Kyle who decides against direct orders, to go off and rescue her way back in Recharge. While Guy was busy leering and teasing, Kyle was supportive. Guy's way of showing a girl that he likes her, is more like an eight-year old throwing rocks at her in the schoolyard. Kyle's a bit more gentle.
Besides, he's cute as hell. I certainly can't blame Soranik for noticing Kyle's astoundingly gorgeous behind. And his sideburns. All of a sudden, Kyle's got sideburns. I LOVE sideburns, especially with shorter hair. It looks...so Mr. Darcy.
*sigh*
So let's hope that Soranik is the one who breaks the jinx. Not to mention that there are all kinds of emotions at play here, such as love and hope and fear, all of which I am sure will be tying into Blackest Night. I wouldn't be surprised if Kyle and Soranik's new feelings will have a major effect on things to come.
So, anyway, Happy Valentine's Day. Go forth and consume chocolate.