Wherein I Uphold the Honor of Beau Smith
My scanner is busted, so I have a tendancy to lurk over at Scans Daily, and poach pictures for my photobucket. It is also a good place to find out the plots of books that I have no intention of actually buying or reading, but wish to stay "au courant" as they say. And while it can occasionally be mildly amusing, it also has a tendancy to be pretty strident.
This morning, there were a couple of articles concerning Arisia and the Green Lanterns, which of course, I considered to be right up my alley. The author then proceeded to give pictures and tell the tale of Arisia's knock-down, drag-out battle and subsequent death struggle with Major Force, from the pages of "Warrior".
Now, I'll say right now, flat out, that I adored Warrior. It was Kalinara who put me onto it's charms, and I will admit that occasionally the art was just GAWDAWFUL, and the stories occasionally verged on bizzarre. Nevertheless, I loved it, because, full of the '90's excess that it was, it was still fun, inventive, action-packed, and had a truly fabulous cast of supporting characters. It also went a long way towards turning Guy Gardner from a brain-damaged buffoon into a real and interesting character. Nevertheless, I can understand that Warrior wouldn't necessarily be everyone's cup of tea.
However, I wasn't prepared for the wholesale rage that I encountered, when I got to the comments. People were expressing outrage, the desire to beat Mr. Smith up, the horror of his portrayal of Arisia, screams about the art, and the "fridging" of yet another female character. Only towards the end, did anybody actually take the time to stop frothing off at the mouth and actually pay attention to the context of the story.
Because, it's a very good story.
You all are probably familiar with Major Force. He was a bad guy, a particularly nasty bad guy, and he's the one who shoved poor Alex into the fridge back in Green Lantern to bum out poor Kyle. He ended up being a particular enemy of Guy's when Beau Smith used him to some effect over in Warriors. Major Force tried to off Guy's own mother at one point, who happened to be out of town, so he fridged her unfortunate neighbor instead. Oh,and he shoved her cat into the freezer. Which, I'm sorry to say, made me chuckle.
So it is definitely in character for Major Force to come looking for Guy, and wind up fighting and killing Arisia at Warriors. He was looking to put a serious amount of hurt on Guy, and he didn't care WHO he hurt. Arisia, at the time, was living on Earth, and working for Guy, because like the rest of the former Green Lanterns, she didn't have her ring or her powers. Hal had gone all Parallax at that point, and besides, he'd dumped the poor kid. I always thought it was rather sweet of Guy to take her in, and despite their explosive beginnings, they became good friends.
What all the commentators seemed to miss, was that Arisia was fighting a practically unkillable monster, and she was doing it WITHOUT ANY POWERS! And although she was overwhelmed in the end, she gave one HECK of a good fight! She didn't stand there and cry or faint or run away, she fought back, and she fought with everything she had. She didn't go quietly, like Katma Tui or Big Barda, on the floors of their kitchens. She FOUGHT BACK! She didn't squeal like Tigra, she fought back!
Furthermore, Mr. Smith always said that he had planned to bring Arisia back at some point, setting up the possiblity when in earlier issues he had her recovering quite easily from some very serious injuries. Unfortunately, this was towards the end of the book,and he simply ran out of time, as Warriors was cancelled shortly afterwards.
Besides, as Kalinara has previously pointed out, Beau Smith writes great women. And he adds women to his books in a lot of ways, that other writers don't even think about. He doesn't make a big fuss about it, they are just there, in the background, doing their jobs...just like the male characters. We had Rita from the Monster Hunters, we had Veronna from the jungles of Nabba, we had Zinda, Lady Blackhawk, whom Guy saved in Zero Hour, we had Arisia, we had Fire...all hanging out at Warriors. We had a depowered but kickass Wonder Woman. We had Guy turned into a woman for heaven's sake.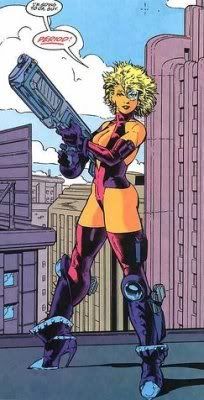 There was a lot of complaining about Arisia's outfit, but goshdarn it, I actually like it. It's a little out there of course...this WAS the '90's after all, but what the heck. She actually has curves, and an actual torso, that can even hold organs,and some muscle tone in her arms and legs.
And now she's back and I am happy about it. Plus Guy went and made Major Force very very sorry.
And I suppose that I've learned a lesson from al of this as well. I should actually break down and read the book, not just a few selected scans, before I open my big fat mouth and start yapping about things. I've heard a rumor that Beau Smith is going to be writing a Green Lantern Annual this year, and I am simply delighted.