Well...THIS is Interesting
I really have nothing of importance to write about today, except that for the next week or so, I'm going to be incredibly busy emptying out my Father in Law's condo in New Haven, which he has sold. Since he's in Phoenix, Arizona, this could be interesting. On the plus side, he's incredibly neat and tidy. On the down side, the place is HUGE, and my house, while also large, is also stuffed to the gills with my crap. It could be interesting. Anyway, my posting may be interrupted sporadically for a while.
In the meantime, I'm going to post some incredibly suggestive scans about Batman.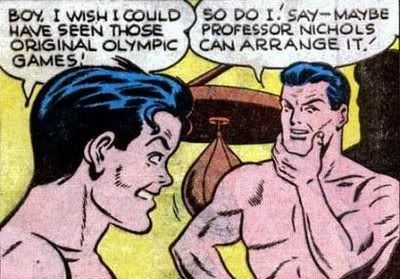 Well! As we all know, the original Olympics were performed completely nekkid. Apparently Dick also like Gladiator movies.
I can honestly say that I don't have a clue about when or how this panel took place. All I can say is, that certainly sounds like very nervous laughter to me.