Guy and Bea...sittin' in a Tree...
...k i s s i n g! Yes, it's true, Guy and Bea DID date for a while after Tora got iced, and when he was Warrior. Some people may deny this of course, but some people don't believe in the Easter Bunny, Santa Claus and Independant Voters. They DO exist!
It is my firm belief that Bea at least had a mad love/hate thing going on with Guy for years, and vice versa. However very little ever came of it, with the exception of a few wild rescues and such during their JLI days. However, you all recall of course that madcap Christmas Eve party at Warrior's, when Bea got completely swacked on the spiked eggnog, and she and Guy started snogging wildly, under the mistletoe. Then things got really out of hand, and presumably an interesting evening ensued.
And that was that. A one-night stand.
Except, the two of them started peeking sheepishly at each other whenever they ran across each other for quite some time after that. Bea keeps suggesting that he call her sometime in her best Mae West imitation, and Guy's eyes would cross, and then something would blow up and they'd have to postpone their discussion to the next time.
<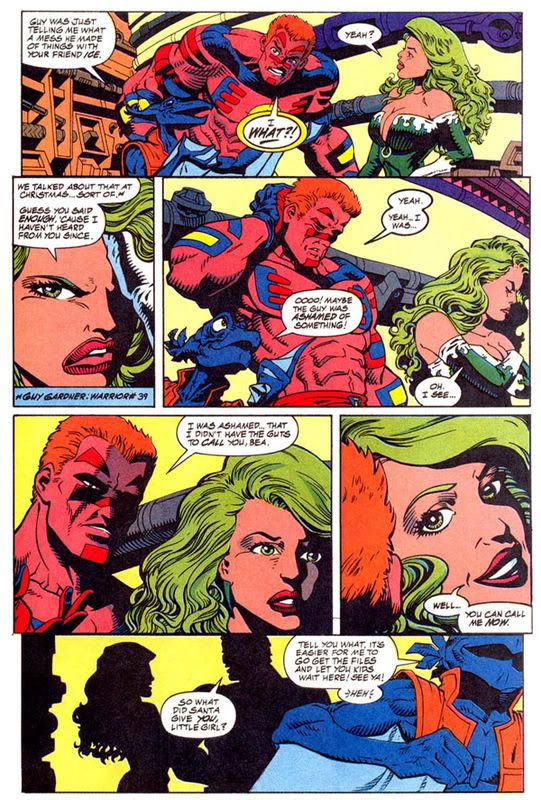 Smooth Guy. Smooth. This actually went on for quite some time.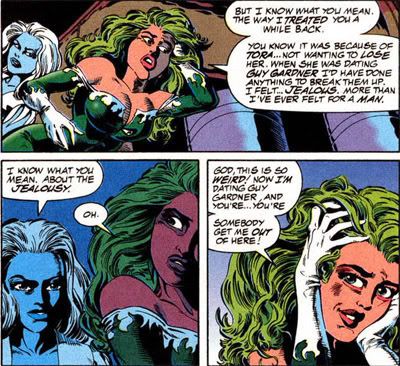 Even Bea can't quite believe it. And she's...blushing! That's just so cute! I always assumed that Bea had forgotten how to blush around the age of twelve or so. Guy on the other hand, blushes all the time, the big lug.
And finally, in the last issue of JLA, at least for a while, there was this.
<

So it's canon. It's true. It really happened. And I really really REALLy hope that somehow this gets brought up in Green Lantern Corps, because I think it would be quite...interesting. I also assume that somewhere, Snapper Carr has pictures. Then rather suddenly, they weren't together anymore, which is a story that also needs to be told somewhere, because they were certainly on the outs by the time that the OMAC story by Rucka came out. I used to think that Rucka was just writing them out of character, but when you think about it, I suppose that it makes perfect sense for Guy to be all snarky and obnoxious if he got dumped shortly beforehand. It could even help explain why he was so rude to Wonder Woman.
It is amazing, the mental gymnastics that I am able to perform.