For No Particular Reason...
I think I'll post about John Stewart today. For no particular reason that I can think of, except that even I get bored with Hal occasionally. And Guy is both hiding from Soranik Natu's constant nagging, and pining for Ice. Oh, and Kyle's off painting somewhere.
John always seems to be the afterthought for me, when it comes to the Green Lanterns, and I don't really know why that should be. It isn't because I don't like him, because I do. Maybe he's just not loud enough, obnoxious enough, or doesn't have hair like Hal's.
He IS awfully cute though.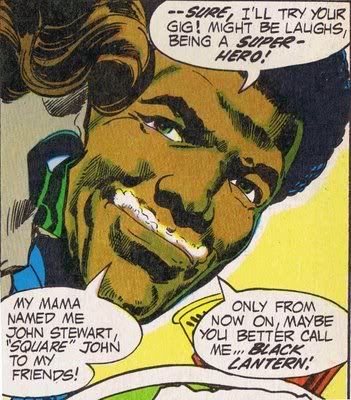 Milk mustache!
I always got the impression in this issue that Hal was beginning to think that he'd bitten off more than he could chew. Which is a GOOD thing in my opinion. John DOES have this impish side to him, it's just that they don't bother to show it very often. And although he's been showing up more lately, and has been doing some pretty awesome things, they aren't showing off any of those little personality quirks that he has, like his lust for coffee, and appreciation of ABBA and Barbra Streisand. You just know that he's been to see "Mamma Mia" about twelve times by now. And that he's tried everything to get the rest of the Justice League to go and see it with him. I think that Superman and possibly Diana were the only ones who appreciated it. Hal was so horrified that he took off for Oa, and voluntarily started helping Guy and Kyle set up the bar. Roy begged Uncle Hal to take him too.
I getting slightly off of the subject here. In fact, I think that I've forgotten what the subject was in the first place. Oh yes, John Stewart.
John is cool.