Be Still, my little Fangirlish Heart
It seems as though there has been nothing but good news coming out of San Diego lately. I knew that there had been numerous hints about some project that Geoff Johns and Ethan Van Sciver were up to, together, but it has finally been revealed that they are going to do The Flash: Rebirth.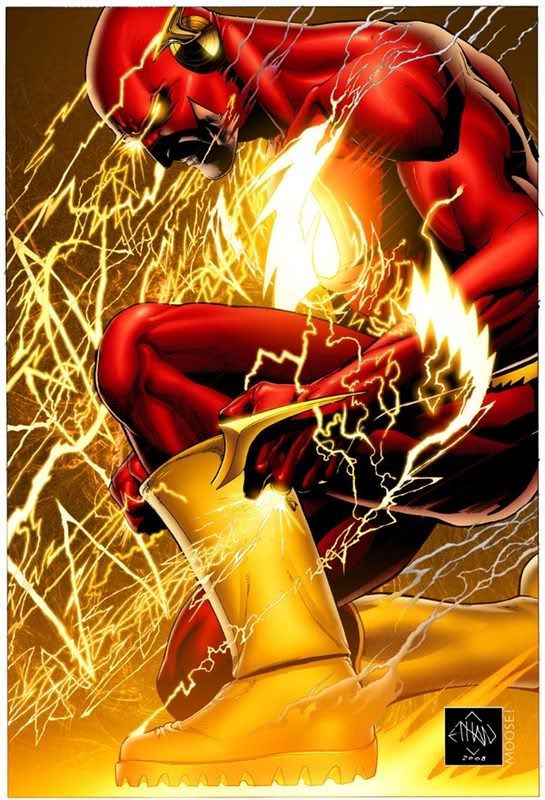 I am enthralled. Geoff's writing, Ethan's majestic artwork, and coloring by Moose Baumann! I missed you Moose! It's going to be lovely. And if it turns out as well as the Green Lantern, Rebirth of Hal Jordan, then it is going to be lucrative for DC as well.
Some people are thrilled that Barry Allen is back, and some people are disgruntled. I am firmly in the thrilled department. I like Barry. I've always liked Barry. Although Jay Garrett is my FAVORITE Flash, I like all of them pretty much, although I must admit that I really do prefer Bart as Impulse. Grown up, he was just too much like Wally. And frankly, if you can have multiple Green Lanterns, and Green Arrows running all over the place, then by God, you can have multiple Flashes. For that matter, there are a crapload of Bat-related characters, not to mention Super-people and Amazons.
Besides, I'm just wild for Barry's manly crew-cut. Roowrr.
And he's a CSI ! People actually know what that is now! Furthermore, I think that the Rogues will be delighted. Oh, they've enjoyed tangling with Wally over the years, and I think that they are genuinely sorry about what happened with Bart, but somehow, you just never get over fighting your first hero. I just think that Barry holds a special place in their black little hearts.
So...we have this to look forward to next year, along with the whole Blackest Night thingie going on in the Green Lantern Universe. It just makes my Fangirlish little heart go pitter-pat.
Oh, here's another Flash picture. No real reason, other than I like how it implies movement.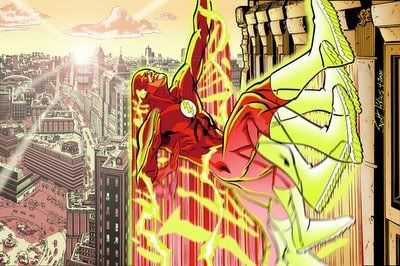 Nicely done.