Oh for Pity's Sake!
Well....last time we all got to see Kevin Maguire's take on Batgirl and Catwoman, and how utterly gorgeous, funny and WELL-DRAWN it all was.
Now, we are flipping to the other side of the coin. I give you...
GREG LAND!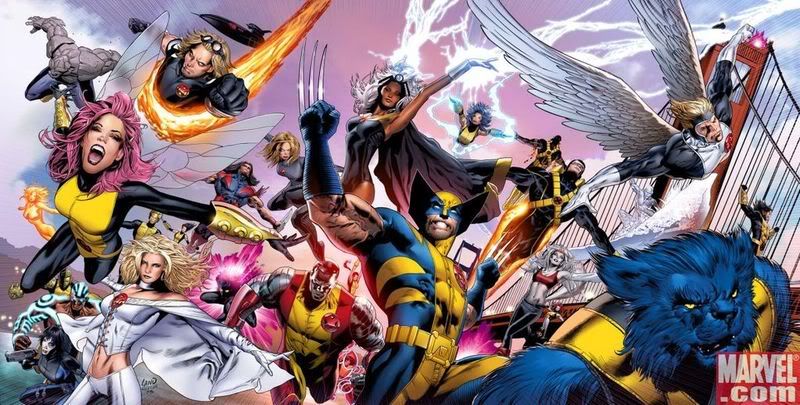 This is one of two covers to Uncanny X-men #500. The other cover is by Alex Ross.
So...where do we even begin with this? Firstly, it's a mess. It looks like Colorforms for heaven's sake. The characters have no relationship to one another, they seem to be just arbitrarily plastered onto the background. There is no single lighting source, all of the characters seem to be lit differently, and again, with no relationship to the picture as a whole. People seem to be missing various limbs. Cyclops seems to have a jetpack. I'm not quite sure who some of these people even ARE!
Worse still, Land isn't just copying magazine covers and porn, he's starting to copy HIMSELF! Several of the figures are lifted right from his work on Ultimate stuff. He's changed the costume and the hair color, and drawn an arm or two differently, but that's it.
I can see the appeal I suppose. It's very flashy, and looks "realistic". The sad thing of it is, is that Mr. Land CAN draw quite well, but for some reason, choses not to. On the other hand, I suppose that he can whip one of these things out in a weekend or so by now.
Now this Pixie person, I am not familiar with, but I assume that she's basically taken Kitty's place. You, madam, are NO Kitty Pryde. She sure as heck looks awfully precocious to me, at least physically. Wouldn't somebody called "Pixie" BE on the small side? Instead she's just Wanda with a different costume.
I don't know what happened to Storm's legs. There seem to be three legs there, and I guess a few of them may belong to the small figure behind her, but Storm is doing a really contorted twist behind Wolverine if her other leg is there.
It's just a mess. Can you even imagine what Kevin Maguire could have done with THIS? Or Romita, or Ivan Reis, or Walt Simonson, or hell, even John Byrne!
I guess I'm just getting cranky in my old age.