It's September!
Woohoo! I made it! I started this silly little blog a year or so ago, give or take a day or two. I'll tell you something however...trying to come up with something worthy enough to print every day is HARD! Just like Math.
It is Labor Day Weekend, and so once again we must put away our white shoes for another year and prepare for Autumn. This is also the time of year that a lot of people start moaning about how quickly Summer went by, and what a tragedy it all is. Not me. I LOVE Fall! Well, I don't love raking leaves, but that's about it. They start to make apple cider, school starts, it isn't so muggy out that you want to cry anymore. The tomatoes are ripe, there are Fairs all over the place and it will be possible to go to sleep at night without a fan or airconditioner.
September is the final hurrah for the Fife and Drum corps, with just a couple of parades until next year. Next weekend they are marching at the Big E in Springfield, Massachusetts, which is a HUGE Fair. And so, I present to you...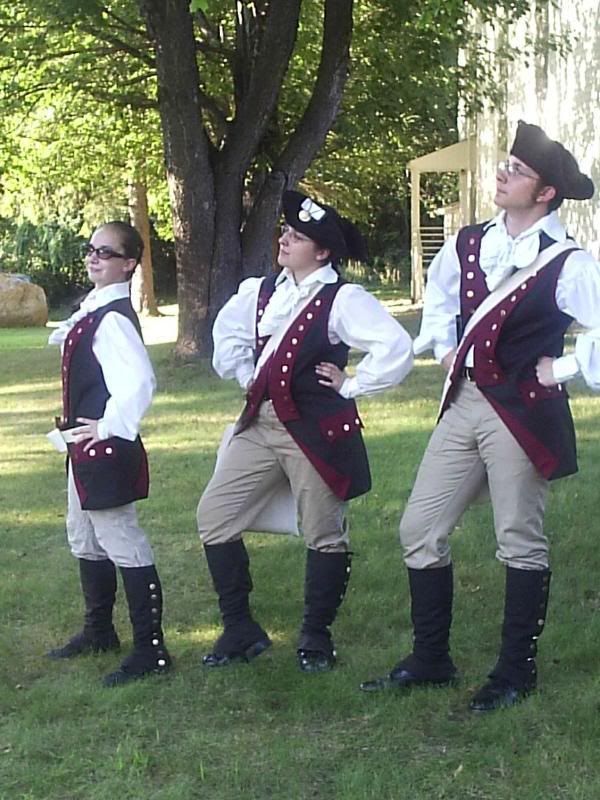 Here you have them, the fruit of my loins. I did indeed raise a bunch of smart-asses, but the apple doesn't fall far from the tree I suppose. However, they ALL read comic books, have jobs, have buried the bodies and settled out of court, so I guess I did something right. They also know that buying me Green Lantern paraphernalia for Christmas is a good way to stay in the will.
So everybody have a nice weekend.