Who IS the Biggest Asshole in DC Comics?
This is a question that was posed to me a couple of days ago by Calvin Pitt, and it is a really good one. I am speaking of course, of the OLD continuity, since there are too many assholes to count in the new 52 version of DC.
Of course, there are Assholes and there are Assholes. Even some of the "nice" characters have their Assholish moments. There are countless occasions where Silver Age Superman was a complete Asshole, but I think that we would all agree, that for the most part, Superman is a pretty good guy.
I think that we can all also agree that Batman has his moments as well. So...so many moments. Seriously, Batman is a major Asshole! Unfortunately, he is usually, if not practically always right, and actually IS the smartest man in the room at any given moment, so a great deal of his Assholishness can be forgiven. Or at least understood.
But there are some other characters who just really ARE Assholes.
I give you Hawkman.
I know that there are numerous versions of Hawkman, but seriously, he's been a bit of a pill in ALL of his incarnations. He's truculent, opinionated, and completely convinced that he's the only one who can save the day. He is also incredibly violent. He doesn't just punch you, he punches you with a mace! That hurts!
He was a complete jackass when the JLI was trying to recruit him, all he did was bloviate about how much better the old Justice League was. When even J'onn is getting fed up, you know you have crossed the line. He got a little better when he was with the Justice Society, but I think that's just because Alan and Jay don't put up with any shenanigans. And all he ever did was fight with Ollie, which granted...is pretty easy to do, because Green Arrow is also an Asshole.
And then there was Captain Atom. Or, as I like to call him, Captain Shinypants.
What a jerk!
Seriously, who likes Captain Shinypants? Scipio just had a whole blog about how nobody can stand him, and I don't think there was a single person who stood up for him. His history is convoluted (although not as much as Hawkman's), he is rude, and over-bearing, and a corporate or government stooge. He is also not very bright...but he IS very very shiny.
Bleh.
And speaking of Green Arrow...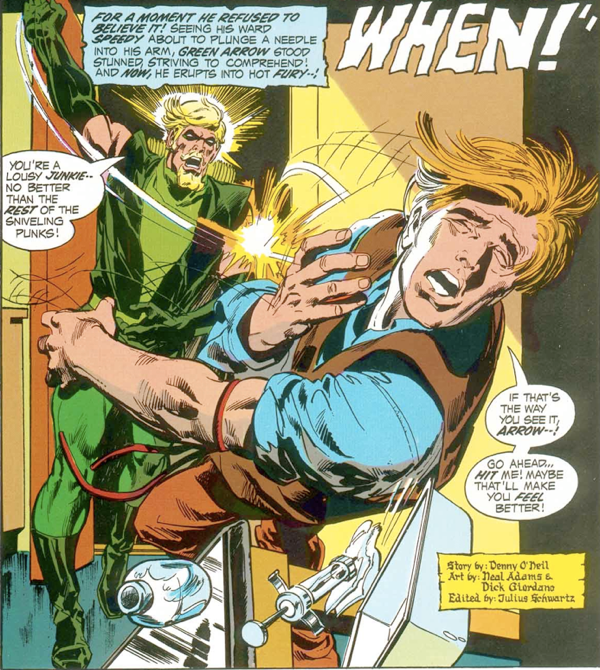 Nothing like smacking your side-kick around because you find out that the poor kid has a problem. A problem that you probably contributed to! It was Hal and Dinah who stepped up and took care of poor Roy, not Ollie. And then there were all the fights with Hawkman. And Hal. Hal may have been his best friend, but he sure did get a kick out of calling him a Nazi everytime they disagreed on something. I also don't like the way that Ollie treated Dinah particularly.
I like Ollie, I really do, but there is no denying that he is a self-righteous jerk most of the time. He has good intentions, and he may actually be right some of the time...but he's just so...so obnoxious about it! What an Asshole!
And then there is Hal.
Oh Hal.
Handsome, brave, daring...and a complete Asshole a whole lot of the time. He never plans, he never prepares, he just flies in by the seat of his pants, and fakes it. Drives Batman crazy. He is SO completely convinced that he is fabulous that it really gets annoying. He treats his girlfriends like dirt, he mouths off to the Guardians, he pouts when nobody loves him, he sulks, he whines, and he does terrible terrible things to Guy Gardner.
There is no denying that he is a huge Asshole. But he is so damned charming that he manages to get away with it. Most of the time.
But there is my favorite Asshole of course.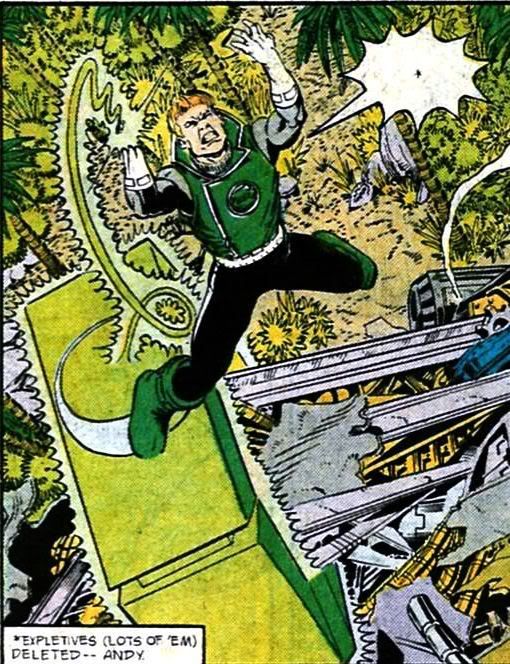 Oh Guy, you are SUCH an Asshole!
Particularly in his JLI days of course, but he has his moments even now. He was rude to everyone, he was crude, lewd and just childish in his antics. He mocked Batman, he pulled Superman's cape, he gave J'onn migraines, he insulted Ice's thighs, he fought with Hal constantly...he was just...just dreadful!
On the other hand, unlike the rest of this illustrious bunch, he really didn't have a whole lot of control over how he was behaving thanks to Hal and his little three-year coma, and the resultant brain damage. He has his brains back now, and yes...he's still an Asshole, but he's an Asshole because, quite frankly, it's a lot of fun.
But as big an Asshole as all of these wonderful characters are...I think that the one that really stands out to me is...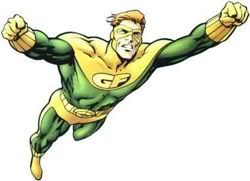 Geoforce.
Holy moley, how I hate Geoforce. I cannot think of a single redeeming feature about him. He's obnoxious, arrogant, pushy, stupid, and he wears a dumb costume.
Arrrgghh!
Those are my nominees. Can any of you come up with bigger and better Assholes?