Oh What the Heck
I do hope that everyone had a nice Easter or Passover. I had a lovely time, hosting this year for the family although it was a bit chaotic with four children under the age of four running about. Fortunately I did remember to put the sharp and delicate things higher up than usual.
I have absolutely nothing important to say about Comics, except that they are a source of never-ending joy to me.
And this sort of thing is why.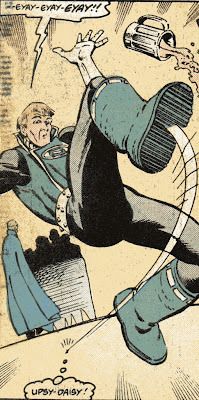 Tripped by the Atom, and showing off his butt.
Oh Guy.