Forever Evil?
There was something that was bugging me about the latest issue of the latest interminable Cross-over, Forever Evil. Leaving aside the fact that I find it to be fairly dull, this particular page drove me nuts.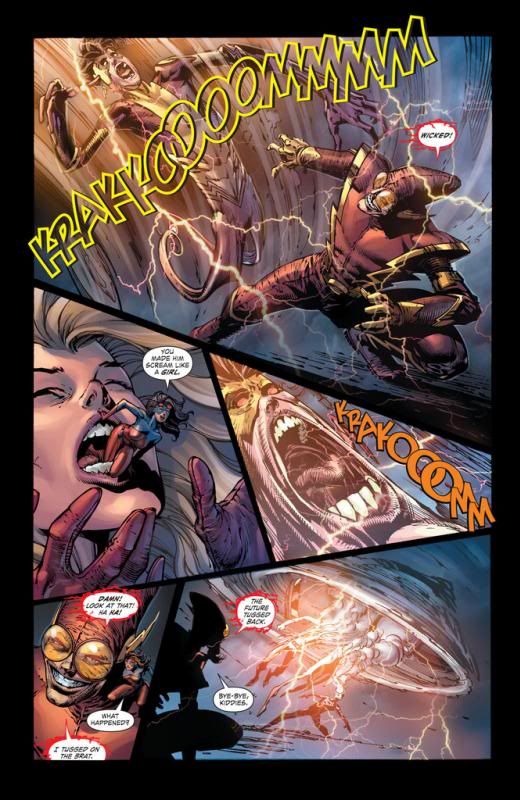 Evil little female Atom is out with her boyfriend, the evil Flash, running about causing mahem galore. Just for the fun of it apparently. And she decides to leap into Cassie's ( I think) mouth.
Why?
She wasn't even all that small, she was certainly large enough that Cassie had to open her mouth wide. Why didn't Cassie or whomever it was...simply bite her in two? Or at least nibble of of her legs off? Or swallow her? Or spit on her?
If something the size of a small Barbie doll tried to climb into my mouth, I wouldn't be just standing around, letting it/her do evil things to my tongue. Granted, she could be a bit on the crunchy side, but hey.
When Guy inhaled Von Daggle, way back when, Daggle was the size of a bacterium, and there wasn't really anything that Guy could do about it. It was a sneaky, insidious and brilliant attack. Same thing with Despotillis and how Leezil Pon got in there to fight it off. Really, some pretty terrible things always seem to happen to Guy.
There was a time that the Wasp flew into a bad guy's ear...and then whistled, which I thought was both clever and nasty. She's also lucky he didn't sick his finger into his ear and squish her.
Does Atomica have super strength or something? Why doesn't someone just grab her and squish HER?
Any Thoughts?