Still On My Beetle Kick
Gosh, I loves me some Blue Beetle. Especially Ted. Why can't I have Ted back? They don't even have to think up anything particularly amazing, he could just walk in the door, say that he got "better" and I would be happy. More than happy, I would be ecstatic.
You know who else would be ecstatic? Booster. I also love Booster Gold, and I've been enjoying the heck out of his recent series, and having him in the new JLI, but still...boy I miss Ted. Booster misses Ted. Tora and Bea miss Ted. Guy misses Ted too, he even thinks that he's smarter than Batman. Barbara Gordon misses Ted. Batman may not, but hell...he's the Batman.
But Booster and Ted just had the most amazing friendship ever.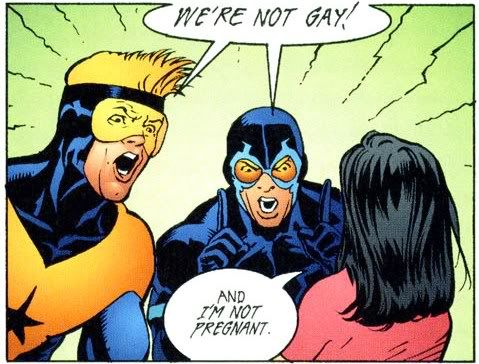 I believe you Ted and Booster! I believe you!