All Romance Heroes look like Hal...Still!
I know that I've used this idea before, but it is still valid, and there's nothing I like better than flogging a dead horse. Or Hal, as the case may be.
I absolutely adore all of those old Romance Comics. Frankly,they are HILARIOUS! All, the moaning, and sighing, and misogyny just tickles my funnybone. But what I really get a kick out of, is pretending that the characters are ACTUALLY from the Superhero aisle of the comics. It's even funnier that way.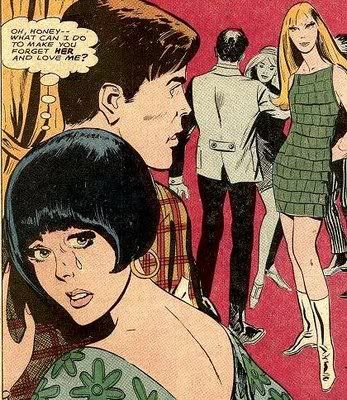 Now here, poor Carol has a haircut, but that's definitely Hal. He just can't stop himself from ogling another woman across a crowded room, even when he's with someone else. Especially, when he's with someone else.
Oh Hal.