Green Lantern #44
And now, for a belated review of Green Lantern, which actually came out last Wednesday, but I was locked in the throes of Guy Gardner week. Nevertheless, it is fabulous...as usual.
Right from the start, I am impressed by the art that Doug Mahnke is knocking out. The book opens with a pan of Mars, and J'onn J'onnz's tomb...complete with the Choco still sitting on the top, left by Batman. *sniff* Things are stirring however, and the choco falls to the ground and is crushed, as a Black Ring breaks through and, in a REALLY cool sequence, reanimates J'onn's corpse, with him finally bursting out of the sarcophagus.
Meanwhile, back on Earth, Hal and Barry are investigating the defilement of Bruce's secret burial, and exchanging a bit of witty banter all the while. Needless to say, they are somewhat...startled by J'onn's arrival, not to mention the fact that he says that the two of them shouldn't even be alive. In another rather cool effect, both Hal and Barry are shown as seen through J'onn's eyes, and Hal glows green, while Barry glows blue. Lovely.
At first they try reasoning with him, or at least Barry does, but according to Hal's ring, J'onn IS dead, and naturally, a fight breaks out. To put it bluntly, J'onn wipes the floor with them.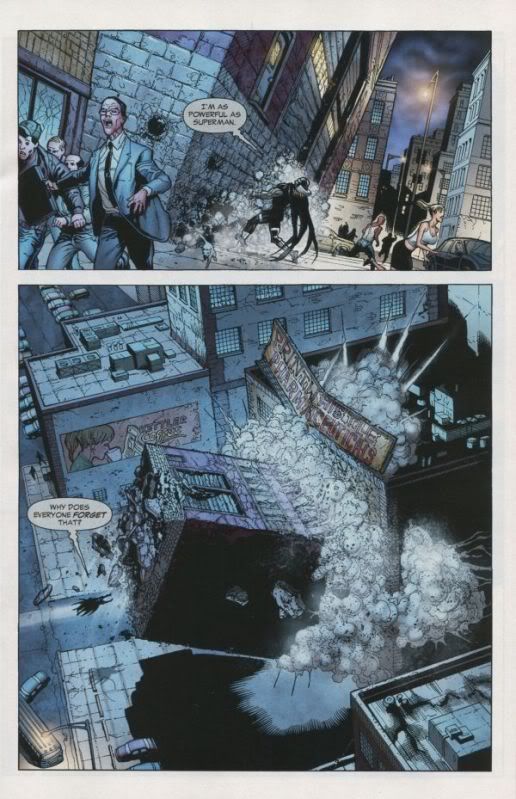 That's a darned good question, J'onn. I have to admit that I do like to occasionally see good guys get possessed, or go bad or whatever, because it gives them a chance to REALLY cut loose, and show exactly what they are capable of, but rarely display because of minor things like ethics and morals and stuff.
Back on Oa, the remaining Guardians, who have just been clobbered by Scar finally get around to asking why she's doing what she's doing. Simply put, she's carrying out their mission, putting the Universe in order,without any messy emotions or all the baggage that life brings with it. She and Hank Henshaw should really get together some time.
On Earth, Barry is fighting with J'onn...or is he? Oops.
Oh J'onn, you rascal! You faked Barry and Hal into beating each other up, thinking it was you!
But it's the cliffhanger that really grabs me. John Stewart, as is his wont, is off sitting on some of the rubble left over from the destruction of Xanshi, and pondering Fatality's words, when a whole passel of Black Rings show up.
Oh crap.
"This ain't good."
That's a bit of an understatement, John.
To be continued in Blackets Night #2, while next month, it's Sinestro vs. Star Sapphire and the Return Of Xanshi! Be there, or be square.