Playing to my strengths
It occurs to me, looking back over the past month, that I spent an inordinate amount of time whining. This is not attractive. Taking my New Year's resolution a tad early, I hereby resolve to try and whine less. I also finally got the Restoration Disc from HP in the mail today, so hopefully in a few days, I'll be back on my regular computer and posting like sonufabitch.
Also, to all those guys who are moaning about the delay in the next Green Lantern issue over at the DC Message Boards, get a grip. It will be here when it gets here. I want it too, but I'd rather have it be pretty. Anyway, we had the Rage of the Red Lanterns issue to tide us over.
So...in conclusion, you can never ever have too much of Hal Jordan making a fool of himself.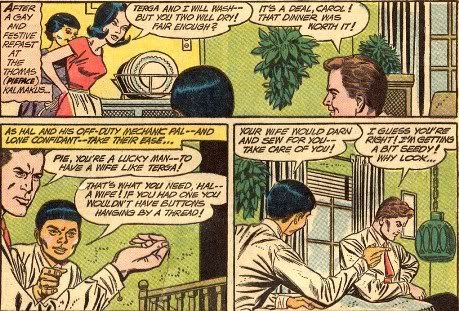 In this particular episode, Hal pretends to love domesticity, and rhapsodizes about the joys of marriage. He even feels that his shirt needs a button sewn on. He offers to do the dishes! What you don't see, is that in the next panel, he and Tom fall into one another's arms laughing hysterically, and ordering Terga and Carol to bring them some pie.