Golden Age Starman had all the fun
I'm a huge fan of Starman. Not as huge of a fan as I am of Green Lanterns, but I really really really liked Robinson's version of Starman with Jack Knight. I like the Shade too, he's awfully cool. But I have to admit that I barely registered Jack's dad, Ted Knight on my scale of things to get excited about, until I started reading some old Golden Age books, with Alan Scott as Green Lantern, and Ted as the original Starman.
Gosh, they're a hoot.
Which is one of the reasons that I love the present Justice Society so much. They've been through SO much, and done SO much, and they are all still friends, which is rather nice. They take time out from rocking on the front porch to mentor the younger kids, and then go off and show Superman and Batman how it is REALLY done.
Now Ted Knight was an inventor, and he invented the Star Rod...a name which just makes me giggle, because despite my advanced age, I'm depressingly juvenile sometimes. And he used to do such amazing things with his mighty rod...and...and...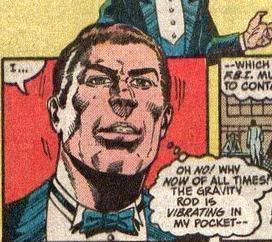 Ah Ted. No wonder the original Black Canary couldn't keep her hands off of you, you dapper dog, you.