Green Lantern Corps #29
Look! It's Guy and Tora! Oh, and some other stuff happens too.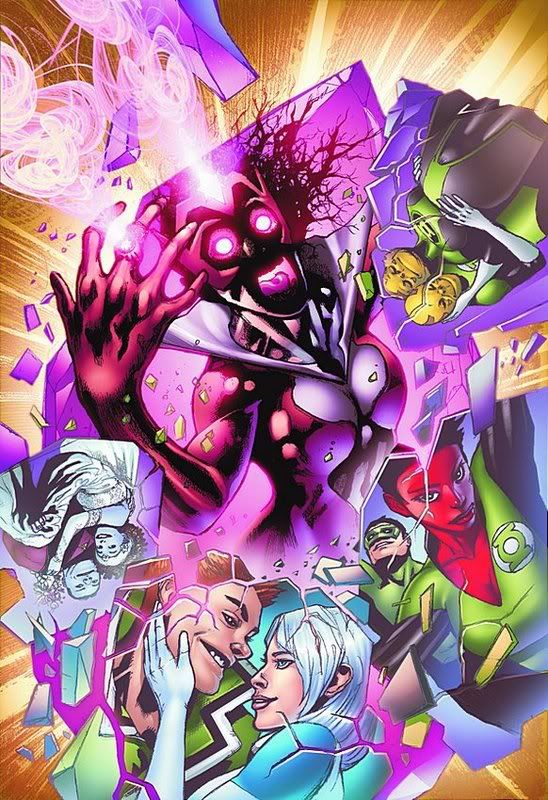 As we begin our tale, the Guardians are cranky. Well, to be honest, just ONE of the Guardians is cranky, and that is our own little scarred whacked-out-of-her-doodle Guardian. The Zamarons have been busy lately, working on their own powers and creating their own purple/pink crystaline power battery, and the scarred Guardian thinks that they are just FLAUNTING their intentions in her face. The scarred Guardian, in my humble opinion, needs to put on some nice soothing music and take a bubble bath.
We then turn to Kered and Miri, a charming young couple who are on their honeymoon, and just gushing to each other about how happy they both are, and will remain for the rest of their lives. Oh...you know this won't end well. And of course it doesn't as their ship is attacked by a ravenous Mongul. Turns out that Mongul is really really really hungry, and eats all of their food. That's all he was really after, and flippantly cracking the space helmet of Kered is just his happy way of saying thanks for the grub. He burbs and leaves poor Miri holding the body of Kered in her arms.
Meanwhile, Mattoo, his pregnant wife and KT21 are searching throughout Sector 1114 along with Kyle and Natu for the renegade Sinestro Corps member Kryb. You remember Kryb, she's the one who had that cage on her back and imprisoned the babies of slaughtered Green Lanterns. The Lanterns feel that she may be the one behind the recent massacre of the Rookie Green Lantern's families,and NONE of them can feel at ease knowing that she's still out there lurking and targetting Lantern relatives. Which of course ties into the whole love theme.
And of course, we have Guy and Tora having a romantic dinner together in a cool green space bubble just outside of Oa.
Guy's been pouring the wine and plying Tora with appetizers. He's also trying...in his own inimitable way...to ask her something. Tora is all interested and encouraging, leaning forward and holding his hand...and then he blurts out the bit about "cohabitate". You can just see the disappointment in Tora's face. I think that she was hoping for a little bit of "...come live with me and be my love, and we shall all the pleasures prove..." instead of ..."cohabitate". She even asks him "like Lovers do?"
Oh Guy.
At least he's bright enough to realize that his big pronouncement is going over with a thud. A palpable thud. And really, who can blame her? He's about as romantic as a chain saw. Tora gently tries to explain her feelings and as usual, he only hears what he wants to hear.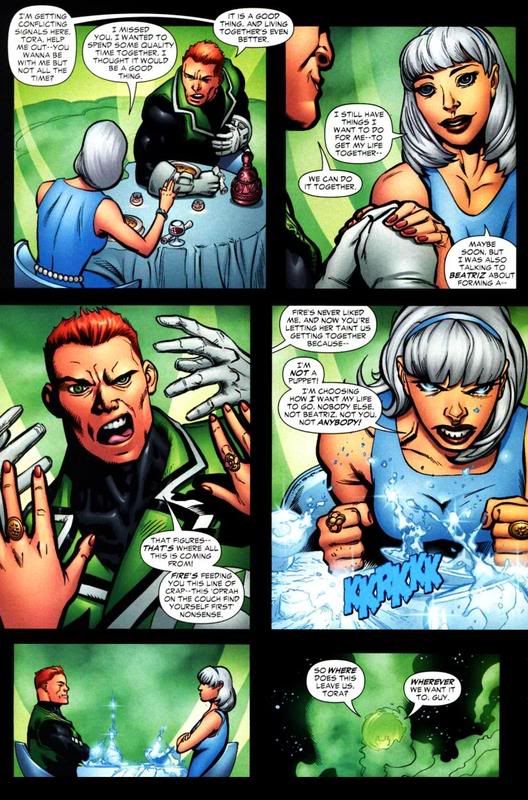 It's actually rather nice to see that Tora has managed to grow a backbone during the time that she was dead, because she doesn't let him walk all over her. I love the bit where she freezes the table. However, emotionally,things seem to be at something of an impasse.
Two days later, on the Mongul-ravaged ship, Miri is about to lose her life-support and join her dead lover, when who should show up but the Zamarons! They tell her that her love is pure and intense and can be used for a greater purpose, so of course she puts on the ring. She's encased in crystal, and the transformation actually seems to be quite painful.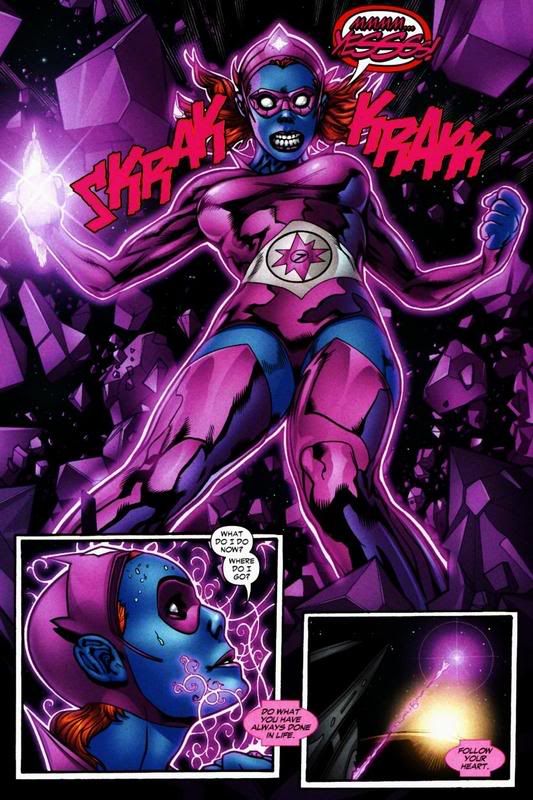 Cool, eh? Bless his little heart, Pat Gleason put her in the old-fashioned Star Sapphire costume instead of the Ivan Reis one. I actually quite like her little helmet/hat thingie, it's rather retro. she has interesting ears too.
Saarek in the meantime is still wandering around trying to find the dead Anti-monitor as the scarred Guardian asked him to do. The scarred Guardian is up to all KINDS of shenanigans!
Guy has come to see Tora off, as she needs to go home. He's still pouting of course. We do get to meet Symon Terrynce, her escort, and a rather chatty fellow. With his usual incredible sense of timing, Salaak sends Guy a message.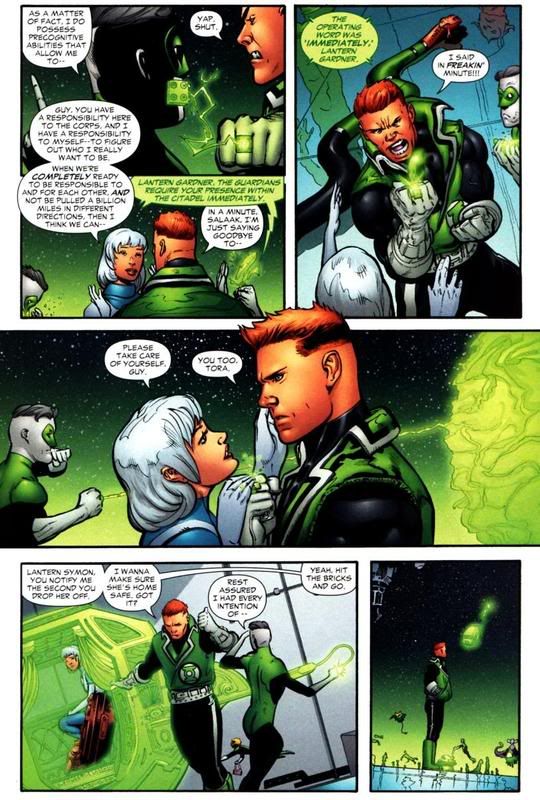 Awwwwww...!
Finally, Guy storms off to meet with the Guardians, who have also summoned Arisia and Yat. Turns out that they are all going on a diplomatic mission to Zamaron, and they want the threeof them as escorts. Oh...THIS will be interesting!
I've already read this a number of times, because I was so interested in the Guy/Tora interaction. On the face of it, it looks as though he asks Tora to shack up with him, she declines, and he gets pissy, then she gets pissy, and that's that. Except of course, that I don't remotely think that that is that.
Let me just say, that my initial sympathies are completely with Tora. It's pretty obvious that she thinks he's going to propose, and instead she gets him stammering and fumbling around. In a way, it is almost identical to the way that he acted when he was supposed to go in front of the Guardians waaaay back when and ask them to let G'nort into the Corp. Guy loves Tora, but he is just having so much trouble SAYING it.
Then she sighs and looks down, and he picks up on that at least. Of course Tora then makes the mistake of mentioning Bea, and Guy immediately picks up on that and starts having a tantrum. He falls so easily into those old ways of behavior, because in a way, I think that it is comforting for him to act and feel that way. It's just easier to throw a hissy fit instead of actually listening to what Tora is saying, and having to work things out.
Let's not forget that practically the first thing that Guy did, after finding out that Tora was alive, was to run off to Oa. Then he starts pining for her and their first date. She makes a HUGE step in their relationship, by figuring out how the heck to get herself to Oa for a visit, and he's delighted...at first. I think that Guy loves Tora, and vice versa. I also think that Guy is AFRAID. The whole theme of the past couple of issues has been the targeting of Green Lantern families. The theme of the current issue is the power of love. It is possible that Guy wants Tora, but is also terrified that something is going to happen to her, so he's simultaneously pulling her forward and pushing her away. Tora can't help but be confused by his behavior, but she's handling it remarkably well. I love the part where he asks her finally where it leaves them, and she answers gently, "...wherever we want it to, Guy." She's not slamming the door on the two of them, she's leaving it wide open.
If you notice, Tora is the one who took the initiative to figure out how to find a way to get to Oa, she's the one who is touching him, and being open. He's the one who is standing there, shuffling his feet and having his arms crossed or his hands in his pockets and pouting.
I can hardly wait to see where this all goes.