Something About Mary
I just can't seem to let go of this. It's one of those annoying, niggling things, like sand in your shoes, or something. Let me just state that not ALL of Countdown was terrible...in fact there were a few things that weren't bad at all. I liked Piper and Trickster for one thing, and the scene where Tim Drake kicked Jason Todd right in the family jewels was a moment to be treasured. The bit with Superbrat Prime and Mr. Myxzlepltik (?) was pretty damned good. There were a few others as well.
But they did a horrible job with Mary Marvel. For the life of me, I can't figure out WHO or WHY turning Mary Marvel evil was supposed to be such a great idea. To me, THIS is Mary Marvel...
I realize that Formerly Known as the Justice League and I Can't Believe it's the Justice League are not exactly in continuity. I don't really care. They did a sensational job of portraying Mary as a sweetie pie. A sweetie pie in little lamp slippers. Jeff Smith did an equally excellent job in portraying her in his Monster Society mini-series.
The point is, that Mary Marvel is young, sweet and GOOD. So naturally, they decided to make her dark, grim and gritty.
Ok, I can live with that, it's an old trick after all. So they have Mary being systematically seduced by Eclipso/Jean, and given powers by Black Adam, and she slowly begins to succumb to the dark side, (not to mention Darkseid) and becomes bad. Not only that, she wears a severely tiny mini-skirt, which just goes to SHOW how evil she's becoming.
Then, they have her renounce her evilness, and Do Good, thus showing her true character, and that she's a true hero after all, and she's rewarded by the Gods that she just rescued with her powers, and everything should be sweetness and light again. A hero has just undergone a hazardous journey and triumphed. Lessons were learned. I began to start unclenching my teeth.
Then Darkseid shows up with his evil pill, and just like that, it's all over. Mary swallows his evil jellybean (it must have been delicious) and presto! Without ANY justification, other than she likes power, she throws away her redemption and goes to the bad. The SEXY bad.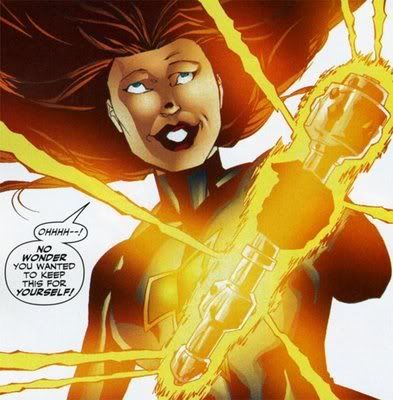 If that's not pornface, then I don't know what is.
So, now, without ANY show of regret or certainly a moment to think, Mary throws it all away. Of course, there WAS this particular moment, which I admit to being rather amused by...
...because, bad person that I am, I find that to be HILARIOUS. But a brief moment of amusement does NOT make up for the bit where she meets up with Black Adam, and throws a hissy fit, and calls herself...(I kid you not...) Mary Goddam Marvel!
ARRRRGGGHHHHHHH!