Demented Ramblings
Gosh, it's cold, dreary and raining today. On the other hand, I'm actually ALONE for a change, since everybody is either off at work or at school, so I can play my music. Loudly. Without fear of recrimination.
I got the final issue of 52 Aftermath: The Four Horsemen, which I must admit I was only following sporadically. My feelings? Needed more Snapper Slapping. That really WAS the high point for me.
Green Arrow/Black Canary has me all choked up and weepy. Poor Connor. Poor Ollie. Poor Roy, dammit. On the other hand, Hal Rocks! And as usual, the art was just lovely. I hate to have to admit this, but Winick actually did a decent job. And comas aren't so bad...just ask Guy. He's been in more comas than just about anybody, and look how HE turned out.
Um...........
I'm still snickering over Green Lantern Corps #20. Did anyone catch the little bit where Hal I think, asks Guy if he's going to call the new bar NEW WARRIORS? Guy snickers and says no, it doesn't ring his ding, or words to that affect. Nice dig, Mr. Tomassi!
I have come to the realization that it doesn't matter anymore whether I liked Civil War, or OMD or anything from Marvel...because they are ALL Skrulls, and therefore, the last ten years or so of continuity mean absolutely nothing. Tony is a Fascist? It's ok, he's just a Skrull! So is Spider-Man, Aunt May and MJ...heck Mephisto is probably a Skrull too! In fact, I imagine that the only person NOT a Skrull is...possibly...Bucky. So, sooner or later, it will all work out. The REAL heroes have just been on vacation for a while. Or sleeping.
I did manage to go back and pick up an issue of the new Teen Titans mini-series, because word was that it was good. And it is. I have to admit, that I think Garth is a hoot. I never knew that he was afraid of fish before, but Scipio gave us all a heads up, for which I thank him.
I don't need Spider-Man. I have Jaime Reyes, the Blue Beetle. So there.
Apparently, Guy drools while he's sleeping. I just think that's cute. Also, Tora does not.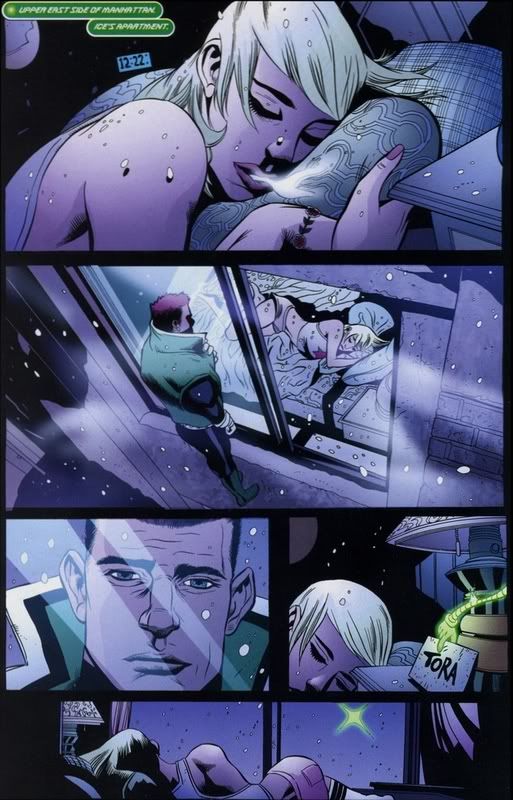 Awww...isn't that sweet? It took me a while to notice, but I'm pretty sure that she has the window open. I'll also bet that she's fond of ice-cold showers too. I'm on pins and needles wondering where they are going to go for their first date.