Let's Try this Again...DAMMIT!
Sorry about that. Hit the wrong button again. Fershluginner computer!
Ahem...!
Yes, I know this is not the actual cover, but I've already posted that once or twice already, and I really really like this one.
So...we finally, actually get to the wedding of Ollie and Dinah, as written by Judd Winick and penciled so beautifully by Amanda Conner. I really can't begin to say enough about the artwork, it is so...so...CUTE! Her expressions are amazing, if I can't have Kevin Maguire, she's just as good. A great deal of the humor in this book simply comes from the art.
We begin with a recap of the Bachelor and Bachelorette parties that have already been presented in several other books, which smacks of overkill, but I am willing to overlook it...for now. Poor Hal, it appears that Ollie really DOESN'T want strippers at the party, much to the chagrin of the other guests.
They all DO seem a bit on the cranky side.
Contrast this model behavior with the shenanigans at Dinah's party. Debauchery doesn't even begin to describe what is going on.
<
There's a whole lot more, but I'm keeping it clean. Funny though.
There is also some fun with the happy couple and their little spat that leads...almost...to some steamy rolling about, until Dinah decides to save herself for the wedding night. Poor Ollie is NOT happy with this decision, but manages to rise to the occasion...or not. We also have an entire page of the various guests and their reactions to receiving the invitations. I find it hilarious that Hal's and Roy's are exactly the same.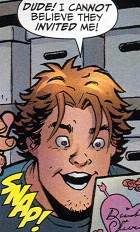 I can't believe it either, Snapper. I'm with Ollie. You ARE an idiot.
But we finally get to the big day, and I must admit that I completely enjoyed this spread.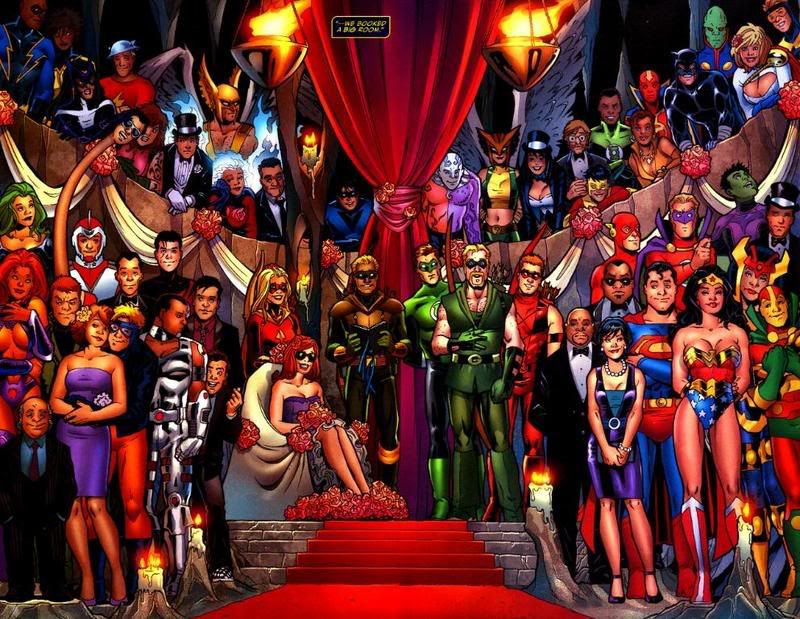 I probably spent ten minutes just laughing and trying to identify everybody in that picture. It is SO sweet with Buddy and Ellen, Superman and Lois and Barda and Scott! Alan is tugging on Gar's shoulder as he drools over Power Girl. Guy is busy leering at Kory's cleavage. Hawkman is glaring over at Hawkgirl. Snapper is still making an ass out of himself. Ollie looks enthralled, Roy bemused, and Hal slightly horrified.
And the blushing bride finally appears in her wedding outfit, which is indeed the one that is on the cover. Actually, it makes a certain amount of sense. You can pretty much bet that SOMETHING is going to happen, so she had better be able to kick butt and take names. Besides, I like the train.
Sure enough, Superman detects that nuclear missles have been fired, so he, Wonder Woman, and ALL the Green Lanterns...including Alan...fly off to deal with them. Ollie doesn't think that it is a coincidence that "the six biggest guns just got pulled out of the room..." and of course, Deathstroke and his assorted baddies show up, right on cue. In addition to the main action, there is all kinds of shenanigans going on in the background, and again, it is completely worth your while, to stare closely at the artwork.
I must also state my utter delight in the fact that the Green Lanterns (including Alan) are indeed described as being amongst the heavy hitters. As indeed they should be. Even Guy. Especially Guy.
Dinah in the meantime is freaking out over her ring.
And Batman just showed up for the fight.
Deathstroke has the entrance sealed up, so that Superman, Wonder Woman and the Lanterns can't get back in, so Ollie manages to save the day, by shooting an arrow up and destroying the device, and that is pretty much the end of the fight. I must say that I found the use of the Suicide Squad as stand-ins for the police to be an...odd choice. They are authorized members of Law Enforcement now? I had always thought they were a black-ops group of sorts. Wierd.
Deathstroke gets away of course...he always gets away.
And finally, we get to the wedding night! This unfortunately, is where the entire tone of the book changes, and for the worse. Up until now, it has been a frothy and lighthearted romp of a story. Now for some reason, Ollie goes nuts, and tries to stab Dinah, and in the fight, she stabs him through the neck with an arrow.
WHICH MAKES NO SENSE WHATSOEVER!
He's straddling her, she could have simply knee'd him in the groin. She'd already done it to Deathstroke earlier. She could have shoved him, used her mad martial arts on him, or just her canary cry! Instead, she stabs her brand-new husband, and the apparent love of her life...through the throat with one of his own arrows!
Man, I'd be even madder about this, if I didn't really believe it for a minute. For one thing, they've already killed Ollie off and resurrected him. That's the usual formula in DC. They may kill you, but if you make it back, you are usually safe. Also, killing a guy on his wedding night seems pretty cold, no matter how you look at it, but it makes for one heck of a cliffhanger, which is supposed to suck you into buying the new Green Arrow/Black Canary book. I see through your machinations DC! Of course I'll still buy it, but I AM aware of being manipulated.
So...it's worthwhile for the art alone, and the story is fun for the most part. Just don't fall for the ending, and you'll be perfectly happy.