A little Hal Mockery
Admit it. You love it, you know you do. I do love Hal, but it is just so much FUN to crack wise at his expense.
For example, this little gem.
Geez, Hal. I know you get hit in the head an awful lot, but you really should know the words to your own oath by now. Maybe Barry can have them printed on a nice little laminated card for you to carry around.
Now, I don't want to say that Hal is VAIN or anything...although he did peek at himself in a mirror while fighting Star Saphhire...but come ON already.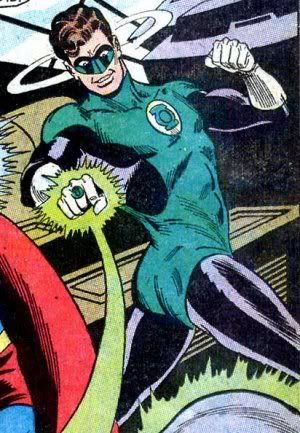 Showing off his chest AND spectacular buttocks at the same time! I can honestly say that this is a real example of male objectification...and it would ONLY have happened to Hal.
But THIS is the coup de grace.

Now this just cracks me up. THAT is some expressive art work!