Cracked Ice
So I think that we can all agree that over in JLI: Generation Lost, sweet little Tora Olafsdottir has not been exactly been behaving herself. If you read this blog with any sort of regularity, you are probably getting sick of me whining about it. Still, I do have a theory. It's not just Winick messing with our minds.
It's Max Lord.
Oh that rascal! He's been messing with EVERYONE'S minds all throughout the world, and apparently able to reach people out in space as well. Or something. He's blown hot and cold with Booster Gold, one minute trying to bash his brains in, and the next telling him that he's sorry about Ted and that he misses him. Talked about mixed signals! He's turned the remnants of the old JLI into apparent criminals, and yet he's made it so that the other heroes aren't really that interested in bringing them to justice. He's pulling strings all over the place, and I'm sure that somehow, there is a kind of master plan.
On the other hand, it is also possible that Max himself is being manipulated. The White Entity certainly seems interested in him, and has given him a quest, that of murdering Magog. Quite frankly, this seems a little peculiar for an Entity of Life, but on the other hand, it IS Magog, and no doubt he's just as irritating to supernatural immortals as to the rest of us.
I'm also wondering if in fact, Max is in complete control of himself, since he seems to be pulled in several different directions. I can't forget that he was a cyborg, and possessed by that Kilg%ore thingie at one point. Is he STILL being possessed? Is this Max a clone or something? I guess we'll find out...eventually.
However, getting back to Ice. Unlike the rest of the bunch, Max seems to have been fairly hands-off when it comes to Tora. With the exception of making it seem as though she was trying to kill Guy of course, but that was actually him messing with GUY's mind, not Tora's.
Except that she's just NOT acting like herself. Tora had to be one of the sweetest, nicest most innocent people out there. She was ALWAYS portrayed that way,and even when she came back from the dead, except when she was being controlled by the crazy Russian who resurrected her, she has been the epitome of all that is good. Here however, she's crying, and whining, and swearing, and stomping her dainty little feet and having tantrums and swearing. Did I mention the swearing? Ordinarily I would say that Tora wouldn't even KNOW those words, but she did spend an awful lot of time with Guy, so of course she would be reluctantly familiar with the more popular forms of profanity. But using those words herself? Never. And, as nice as she is, Tora is certainly not a coward, nor does she ever shirk her duty.
So what is going on here? I think that she's being subtly influenced by Max. Max was pulling the strings with Fire in the latest issue, making her attack her comrades, but at least she was aware that she was being manipulated. Part of Max's agenda seems to be to make poor Tora the very polar opposite of her normal personality. What really confuses me, is not that Max is messing with her, but that the REST of them haven't caught on. There has been a bit of kvetching between her and Captain Shinypants, but really, you'd expect Bea to be a little less clueless, not to mention Booster. I can't really blame Jaime, since he's only met her a couple of times prior to all this mess, but still...it's pretty obvious that she's just not acting as she should be.
Is this a valid plot point? Or is Winick really that clueless himself, and it's just bad writing? Winick infuriates me at times, because he CAN write quite well, when he feels like it. I'm hoping therefore that it is a part of the plot. Which might explain this.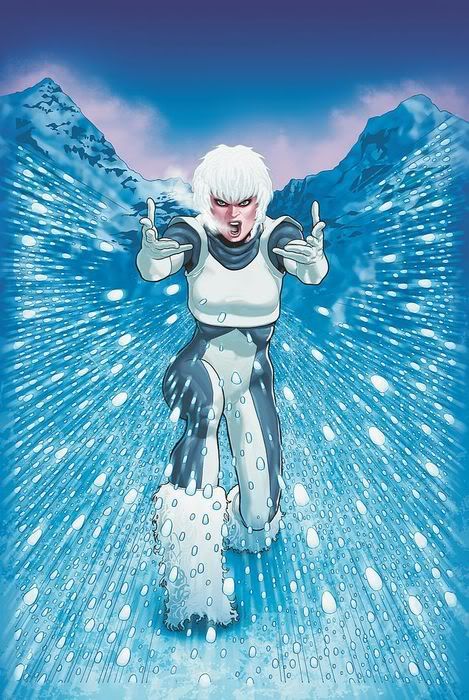 I've read the blurb about how Tora is supposed to go up against Fire, which is pretty ridiculous on the face of it...unless she's being manipulated. Or they BOTH are. Whatever is going on, I'm finding myself being pulled into the storyline, almost against my will. I miss my Tora, but it IS all quite interesting, and frankly, I love these particular characters so MUCH, that I'm just happy to be reading about them at all. But I certainly don't want them to all disappear at the conclusion of this series.
But I'd sure like Guy to show up and bring her to her senses. As well as coming to his own.